Hello Marketer,
Are you sick and tired of all the Empty Promises and Lies not to mention it seems like every product that you buy you are told that this will definitely change a life only to find out it's another scam.
Today there are many programs out there that get you hooked in for $25.00 a Month or more and tell you all you have to do is send traffic which cost you hundreds of dollars if not thousands to make commissions.
Many honest people spend their Hard Earned Money hoping they will make the large commission only to fall short get discourged in quit. This is the flaw with these programs. Only one getting rich is the Guru who set it up.
This is were I come in...
Hello my name is Vincent Craine,
Several years ago I was in your shoes and lost over 30K till one day I made up my mind to get Mentored by the best "Rich Schefren". To date I have invested over17,000 dollars in myself so I could have the credentials to teach you and change your life.
I have coached over 30 students how to set up a business the honest way online so it will last many years.You don't have to rely on any of these false programs to become successful.
The main premise is to teach you how to build a responsive list of subscribers that will buy your products or the product you endorse for many years to come.
Lets get one thing straight "Right Up Front"
This is not a get rich quick scheme that will make you millions of dollars over night. What this is, is a comprehensive Coaching Course 16 hours or less that will teach you....
1. How to set up a domain
2. How to set up Hosting for your domain
3. How to set up and use Aweber (for listbuilding)
4. How to set up & use the tools to clean your PC
5. How to protect your PC from spware,share & adware
6. How to set up tracking for you websites and emails
7. How to write a quality e-mails that will increase conversions
8. How to set up adswaps that will ad new subscribers everyday
9. How to how to use the Number One Software that builds sales funnels ( I give this to you...)
10.How to set up a blog for a brand recognition, social media presence.
11.How & where to go to outsource Your projects (product creation)
12.How to build a solo business that will generate thosands a month & will last for years.
My BONUS:
You will get 16 hours of videos (right on your server)
on all the subjects covered in the course.
When you complete My Coaching Course you will be well on your way to building
a rock solid business that will generate income beyond your expectations.
Here's what some of my Students are saying...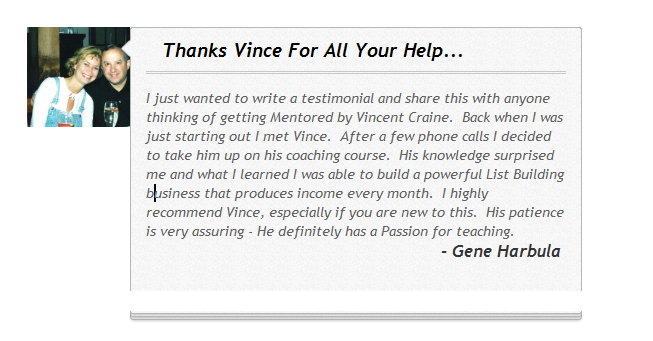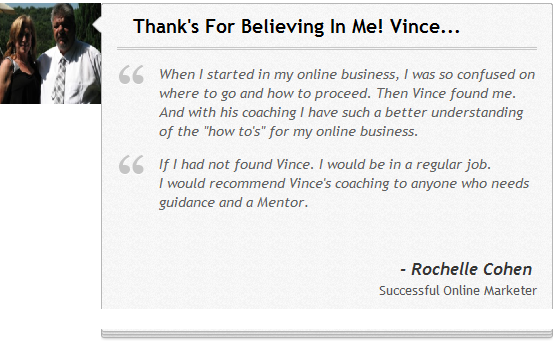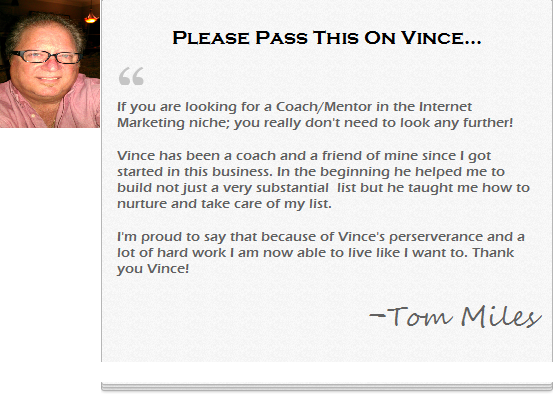 So ask yourself this question..
.
Are you tired of chasing the next shiny object and want to build an expandable online business
reply to this email or contact me below!
Sincerely
Vince Craine
Marketing Mentor
Skype: vmcnewbiecoach
Cell Phone 781-706-1383